About Kate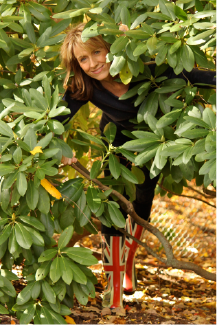 Kate has lived in the USA (or "on this side of the pond" as the Brits say!) for over 16 years and has spent extensive time on both East and West coasts.  Long enough to acclimatize but not long enough to lose her accent!  Kate was raised in Henley-on-Thames, a small English town and home of her favorite pub, The Five Horseshoes.  After university, Kate lived and worked in London and then re-located to the US.  During these years, Kate worked for Accenture, a global management consulting firm with clients all over the world, so she understands how to anticipate and deliver on client's needs.
Kate discovered her passion for voice acting while volunteering at the Perkins School for the Blind as an audiobook narrator. She studied with Edge Studio in New York and Wren Ross in Boston, a veteran voice actor and coach who has worked with countless talent.  "Fancy a steak?" was Kate's first official voice gig and since then she's never looked back!  Kate has something unique to offer.  A British accent is global, well recognized and easy to understand.  In a world where we're bombarded by smart devices, computers, TVs, radios and even cars – how can your message be heard?  Be different, be British…….and that just might be Kate's cue!
This Boston-based Brit looks forward to working with you.
Just for Fun!
Do they really say that?  It turns out that Americans love British English. Some of Kate's favorites include:
Scrummy, shambles, kerfuffle, dodgy, gobsmacked, brilliant, bits n' bobs, bees knees, chuffed, rubbish, bee in her bonnet, gutted, spanner in the works, he's no oil painting, fair to middling, bubble and squeak, cooks nips, and cheerio.
Voices have character and texture just like people and places.  Textures from Old and New England.  Enjoy!